Podcast: Play in new window | Download (Duration: 2:17 — 3.2MB)
Hello, This is Bentley and I wanted to make a quick episode to share with you a special holiday that you may not be aware of. It is Esther day which is August 3. Esther day is a celebration of love, specifically non-romantic love. To celebrate Esther day your don'y buy anything or send a manufactured card. You celebrate Esther day by saying "I love you " to someone you don't usually say it to. like a relative or friend.
Esther day comemerates the birthday of Esther Earl who died of thyroid cancer in 2010 at the age of 16. She was on of the inspirations for the book and movie "The Fault in our Stars". The author John Green asked Esther how we should celebrate her birthday in perpetuity and she could choose anything she wanted. She asked that it be a day for love and family. You can see brothers John and Hank Green saying I Love You to each other on their YouTube Channel. I have links in the show notes about Esther and Esther day. I encourage you to go through all the great videos and blogs about her and her impact. It will fill you with love and hope.
A Charity was established in her memory. "This Star Won't Go Out" is a non-profit foundation serving families with children diagnosed with life-threatening cancer. Caring for a seriously ill child creates tremendous stress for the family system. TSWGO's goal is to help families through financial gifts given with no strings attached. These gifts can be used for medical expenses, items needed by the child with cancer, or personal expenses due to the financial strain of caring for a child with cancer. You can learn more and donate at TSWGO.org
As they say in Nerdfighteria, don't forget to be awesome.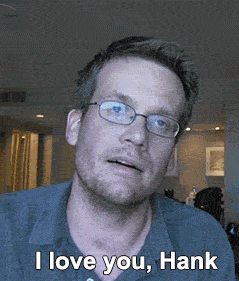 Links